thredUP Promo Code – 60% Off Your Orders
3.56 of 5 stars decided by 9 votes
9 Valid Deal(s)
At thredUP, the largest online thrift store in the world, you can buy and sell high-quality, second-hand clothes. They stock second-hand clothes from top designer brands such as Nike, Marc Jacobs, and Alexander Wang. From boho-babe must-haves to casual active wear, there's something for everyone. And, with our thredUP coupon codes, you can get even bigger savings on great designs. 
No expiration date currently listed
No expiration date currently listed
No expiration date currently listed
No expiration date currently listed
No expiration date currently listed
Valid only until tomorrow
No expiration date currently listed
No expiration date currently listed
30 day statistics: 11 new Codes added • 28 tested manually • Last modified on 02/03/2023
Never miss thredUP coupons again!
Recently Expired thredUP Coupons & Promotion Codes
Sometimes these thredUP coupons can still work after they expire.
More Coupons You Might Like
Top thredUP Online Deals & Discount Codes for February 2023
| Discount | thredUP coupon criteria | Use by |
| --- | --- | --- |
| 30% | Save 30% off Sitewide with this Coupon | Valid until further notice |
| 60% | thredUP Promo Code: Up to 60% off | Valid until further notice |
| 40% | Save 40% off 20 or More Outlet Items with this Coupon | Valid until further notice |
| 30% | Use this thredUP Promo Code for an Extra 30% off 10 or More Outlet Items | Valid until further notice |
| 20% | Get 20% off 5 or more Outlet Items at thredUP | Valid until further notice |
| 60% | Great Savings: Up to 60% Off plus Free Shipping | 02/07/2023 |
| 60% | Redeem this Code from thredUP: Up to 60% off plus Free Shipping | 02/05/2023 |
| 55% | thredUP Promo Code: Up to 55% Off plus Free Shipping | Valid until further notice |
| 50% | thredUP Promo Code: Up to 50% off plus Free Shipping | Valid until further notice |
thredUP Coupons - Feb 2023
Useful tips and information
Saving big with thredUP coupons and deals
Signing up to thredUP's mailing list gets you a thredUP coupon code that guarantees you a 20% discount on your first purchase. In addition to the mailing list discount of 20%, there is also currently a 50% discount available across the store. To access this discount, you need to use the thredUP promo code provided on the online store's menu tab.
There is a comprehensive list of thredUP promo codes on our site, The Daily Beast Coupons, which we keep regularly updated to make sure you don't miss out on the best deals. As with all coupons, remember to read through the terms of use to ensure you get the maximum benefits before using a thredUP coupon code.
How to redeem the thredUP coupon
Find the best thredUP coupon for you and copy the thredUP coupon code

Go to thredUP's website and search for your desired items

Place items in your cart

Once you've chosen everything you want, go to checkout. 

At the checkout, enter the thredUP coupon code in the promo code box and click 'apply'. 

Once you've done that, and checked the discount has been applied, hit 'order' and you're done. 
What you can do if your thredUP coupon code does not work
We check our coupons on a regular basis, but sometimes coupons don't work as intended. Before you give up and find another coupon, here are a few things to check first:  
Did you use a invalid code? Open the T&Cs to check that your coupon code is still valid.  

Have you used the thredUP code before? Some thredUP coupons can be used more than once but some are only good for one transaction. 

Does your order meet the thredUP coupon requirements? Read through the T&Cs to see if your order meets all the coupon requirements. 

Does your order meet the minimum order value? 
If you're still not having any luck after checking through this list, simply choose another thredUP coupon code from our list and redeem your desired discount. 
Free shipping at thredUP  
You can use a thredUp coupon to receive free shipping. Normally, all purchases are subject to a flat-rate shipping fee of $5.99, but you can use thredUP coupon codes or gift cards to guarantee free delivery by USPS. Delivery takes approximately 3-8 business days. 

Deals in the thredUP sale 
thredUP have frequent mini-flash sales where a 10-20% discount is available on all orders. To be told about these sales and to get the discount, you just need to sign up to thredUP's email subscription service. When sales come online, your discount will be automatically activated.
You can get an even better deal when you combine a thredUP promo code with the 10-20% in-house discount. Deals like this are particularly common over the Thanksgiving weekend, where a thredUP promo code can get you as much as 85% off! 
thredUP Black Friday sales
Use thredUP coupons over the Thanksgiving weekend to grab some of the best deals available on those gently-used designer clothes. There are numerous thredUP promo codes that you can use on Black Friday and Cyber Monday to stretch your money even further. Visit The Daily Beast Coupons for up-to-date thredUP coupons offering massive discounts on items at the thredUP online store.
Detailed information about thredUP
Why doesn't my thredUP promo code work?
Although our website, The Coupons Daily Beast, is daily checked by experts, small technical issues may occur due to some programming errors. Since it's not very likely, we recommend you to check first the validity of thredUP coupon, applicability of the thredUP promo code for the items in your cart or if you entered the code correctly. The recommended final step after checking all potential reasons is to contact our customer service.
What countries does thredUp provide shipping to?
Currently thredUp ships only to the United States and Canada, but seems like they expand their shipping services to many other countries soon.
How does thredUP's return policy work?
If your ordered items don't look on you as you'd imagined, you can send them back for up to 14 days after the delivery date. thredUP handbags, which are known for their high quality, are considered as non-returnable. However, if any of the items you order arrives damaged or different than described, you can always contact thredUP's customer support.

Does thredUP have gift cards?
Yes, thredUP has gift cards that don't require any activation or other fees. You can redeem your thredUP gift cards at anytime as they do not have an expiry date.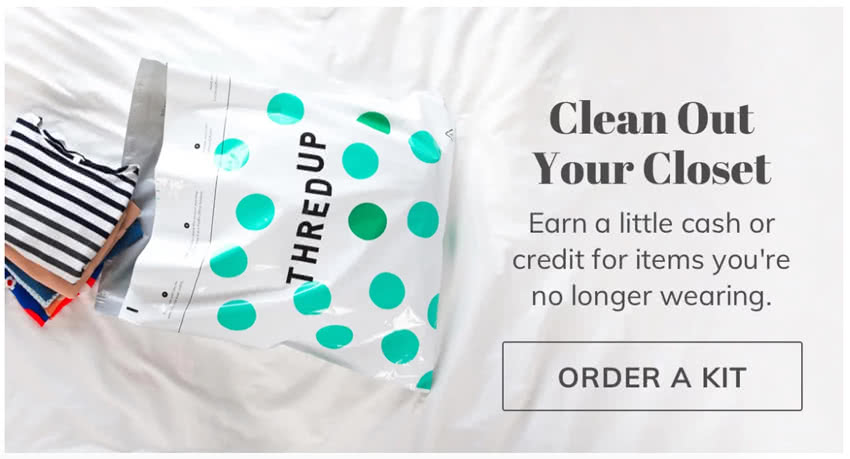 How much can I earn from thredUP's clean-out process?
thredUP offers a unique clean-out process through which you can get money off your new purchases while getting rid of the pieces in your closet that you don't wear anymore. Check thredUP's website to see their payout structure to find out how much you can earn for those pieces.
Is there a thredUP military discount I can use?
Yes! As a member of the military, you can get 33% - that's a full third - off the cost of Pro Membership at thredUP. 
Are there any thredUP promo codes for new customers?
Yes, thredUP offers many different discount codes for new customers. Many of these coupon codes can save you up to 50% off of your next purchase. With many prominent brands like Nike, Marc Jacobs, and Alexander Wang, you can apply coupons to your order and get the best deals on the clothes that you love the most.
Some ways that returning customers can save money with thredUP discount codes
There are plenty of thredUP coupon codes for existing customers that can get you savings on your orders. One of the many ways you can get savings is to sign up for a thredUP newsletter, so you can get 20% off your next purchase. Stay connected with the Daily Beast team to get tons of discount codes and coupons to help you save you tons of money.
I can't find what I'm looking for
If you can't seem to find what you're looking for second-hand at thredUP, then it might be time to thinking about buying whatever you need new. If it's sneakers or sports clothes you're after, then Nike - which we have plenty of coupons for - is a great place to go. Or, if you're still intent on finding a second-hand bargain, then eBay is always worth a look.
How much can you usually save at thredUP?
If you enjoy making a good bargain, you'll love the detailed information about coupons we've gathered throughout the past twelve months.
This discount is awaiting you
Your discount at thredUP can get as high as 50% by applying the right promo code.
The following deal gained attention due to remarkably strong demand: "thredUP Promo Code: Free Shipping on 5 Items".
What's more, the average discount at thredUP is really sizeable. It is 25%.
Everybody saves on 84% of promotions
You can rest assured that the next thredUP coupon code will offer the same savings for loyal customers as it does for new customers. After all, most promo codes were directed at both customer groups.
Amazing selection of deals
ThredUP rolls out the red carpet for you. This adds up to 190 opportunities to use a coupon. These were supplemented by two other special offers.
July is especially savings-heavy with 35 coupons
Our advice for planning in advance is that if you are aiming for a good time to save, your choice should be July. According to our data, this is the month when most coupons are available.